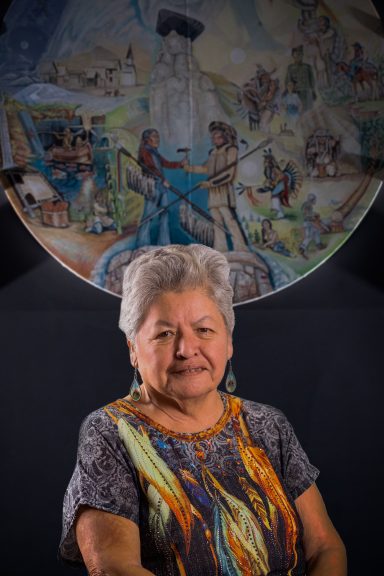 Councillor Marie Baptiste
Tkwenem7íple7 Marie Baptiste
Primary Portfolio:  Housing
Secondary Portfolio: Education
Since 1975 I have only missed TWO Tkemlups te Secwepemc General Band Meetings and I have listened and I have heard the concerns of our members.
I am an experienced administrator, fundraiser, public speaker and project coordinator in Aboriginal Business and Employment programs locally and provincially.
I am knowledgeable of financial, legal, economic, social, health, education and traditional policies, issues and concerns.
Previous member of the TteS Governance Committee and Housing Committee.
EDUCATION BACKGROUND
Graduated from Kamloops Senior Secondary School, June 1969.
Bookkeeping Certification – Cariboo College – March, 1980.
Computer Program Certificate – Cariboo College – 1986.
Private Education Institute instruction relation to Specialized training on computer programs – 1986 – 1987.
Journalism Certificate – Kam-Ed Education Institute
Advanced Management Skills for Supervisors – Thompson Rivers University – January 2011
Attendance at various workshops on (no certification given):

Economic Development
Responsibilities of Board of Directors.
Business Administration
Community Economic Development
HONORS OR CERTIFICATES RECEIVED FOR WORK ACCOMPLISHMENTS
Received "Certificate of Appreciation in the form of an engraved plaque" from the five Tribal Councils (SNTC, KIAC, LTC, OTC and NNTC) in the Central Interior Tribal Councils upon its dissolvement.
Received an "engraved plaque" for work done for All Nations Trust Company (ANTCo) on November 20, 1987.
Received "The Commemorative Medal for the 125th Anniversary of the Confederation of Canada" Certificate and Medal in recognition of significant contribution to compatriots, community and to Canada – 1867 – 1992.
PREVIOUS BOARD OF DIRECTOR – POSITIONS
Board of Director – Canadian Community Economic Development Network 2008-09
Board of Director – All Nations Trust Company 1986 to 2004
Board of Director – Community Futures Development Corporation of the Central Interior First Nations (CFDC-CIFN) – 1989 to 2004
District Advisory Board Member (DAB) – CEIC – October 10, 1986 – 1990
Board of Director – Kamloops Native Housing Society – 1987 – 1988
Member – Western Indian Agriculture Producers Association – 1986 – 1988
Councillor Thomas Blank
Tkwenem7íple7 Thomas Blank
Primary Portfolio:  Natural Resources
Secondary Portfolio: Title & Rights, Legal and Community Services
Primary Portfolio: Natural Resources
Secondary Portfolio: Community Services
Thomas is in his first term as a TteS Councillor (2018-2021).
Education: 
Various certificates earned with Ministry of Forests
Certified Incident Commander level II/Emergency Operations Director
Prescribed Burn Boss Level II
Certified Wildland Fire Cause Investigator level II
Courses in Emergency Management
History: 25 plus years involved in Wildland Fire and Emergency Management. Various certification and training and a combination of education and experience in Management.
Vision: We must create better communication services for our membership through community engagement. We must create a safe community for our membership. We must protect Secwepemculecw and our title and rights. We are responsive leadership and practice good governance.
Councillor Justin Gottfriedson
Tkwenem7íple7 Justin Gottfriedson
Primary Portfolio: Planning & Engineering
Secondary Portfolio: Housing
Justin is in his first term as a TteS councillor.
A grassroots member of the Tkemlups te Secwepemc. Husband to Vanessa and proud father of 4 (Calen, Logan, Danika and Oliver) he has worked for TteS in various capacities over the past 15 years. For seven years, he has served the community in the water and wastewater utility department. He believes in leading by example, which is demonstrated through his strong morals, work ethic and integrity. He is always willing to learn and strives to represent TteS with the highest of standards.
Councillor Sonny Leonard
Tkwenem7íple7 Sonny Leonard
Primary Portfolio:  Business Development
Secondary Portfolio:  Lands, Leasing & Taxation
Mission – Generate funds Through New business to build Elders Group Home
Grandparents
Grandfather: Alexander Leonard
Grandmother: Amy Leonard/Manual
Parents
Father: Joseph A.S. Leonard
Mother: Vivian Leonard
Siblings
Neil Leonard
Nadine (Sissy) Gillespie/Leonard
Patricia Leonard (deceased)
William (Dale) Leonard
Ricky Lewis Leonard
Constance Leonard
Carolyn Leonard
Sports – Golf, Triple A Baseball, Hockey with Vernon Totems: won 5 BC Championships
Work Experience: Electrician, Security Alarms sales/Technician, B.C. Lotteries Gaming Technician, K.I.B Administration, K.X.A. Administrator, Recreation Co-ordinator, T.R.U. Heavy Equipment Training, 40-ton Rock truck operator/Sun Ridge Equipment, SkyHawk Satellite Owner/Operator
Councillor Jeanette Jules
Councillor
Tkwenem7íple7 Jeanette Jules
Primary Portfolio:  Legal, Community Services
Secondary Portfolio:  Natural Resources
Weyt-kp xwexweytep
Jeanette Jules nskwekwst
Te Tk̓emlúps re st'7e7kwen
Le nQe7tse Clarence Jules
nKi7ce Delores (Casimir) Jules
Le Agnes (Duncan) Jules ell le Sadie (Leonard) Casimir nkikye7e.
Le Joe Jules ell le Tommy Casimir nxpe7e
Le Christine (Tswélne) Duncan ell le Amy (Manuel) Leonard nkikye7euwi.
Le Eugenie (Grant) Sisyésq̓t ell le Lucindy (Bushy) Casimir nkikye7euwi.
Le Thomas Graham ell le Duncan Joyal ell le Alex Leonard nxpe7euwi.
Le Jules Sisyésq̓t ell le Patrick Casimir nxpe7euwi.
Re Sisiaskit, Greg ell Colton nsqwesqwses7e
n7em7imts – Zunika, Shiloh, Ambera, Alexys, Malaina, Craig, Keila, Azlan, Kayleb, Kennedy, Rylan, Cayden, Breanna ell Jada imts7uwi Ku'Nu ell Waziya
As a recognized traditional genealogist within Secwepemcúl'ecw, the interior of BC and beyond, I have conducted much research and interviewed many Elders and have verified that both of my parents can trace their lineage to this community and within the nation for centuries/millennia and have also confirmed that they come from a long line of hereditary political, warrior, medicinal and spiritual leaders.
In order to clarify my vision, goals and objectives to the people, I will begin by relating the traditional upbringing by my parents, grandparents and extended family members. although they lavished me with love and affection, I had to adhere to the family and community values of love, respect, integrity, not only to ensure I became self reliant, but to ensure I was capable of helping those in need in order to clarify my vision, goals and objectives to the people,
Our grandparents were born in the early 1900's, except our paternal grandfather Joe Jules who was born about 1885. Secwépemctsin was their first language, along with the languages of neighboring nations and the Chinook Jargon. My paternal grandparents rarely, if ever, spoke English.
Our grandparents worked hard everyday. On the main reserve, they cleared the irrigation ditches, the land and tilled the soil so they could plant the gardens, orchards and hay fields, not only to feed their large families, but also to feed their horses, cattle and other farm animals. They also hunted, fished, trapped and gathered herbs, bulbs, medicine and food in the mountains. My parents and extended family also carried out this practice, and all the children were expected to help.
My first memories were growing up in the mountains where I was raised since birth. My Grandfathers Joe and Tommy, my Dad and my Uncles were horse loggers. As children, we played but our training by our extended family members began.
My paternal grandfather Joe Jules (who also served on our band council for 32 years) visited us every evening and told and retold Stseptékwll (legends and stories) ell Stsekxmém (knowledge/truth) and, even acted out the parts of the animals, such as the owls, bears, coyotes and foxes. we were told that it is up to us to remember what we were told so we could pass it on to the next generations. this has helped me memorize all historical information regarding our Secwépemc genealogy, language, history, spirituality, sacred ceremonies, legal traditions and culture, all Chief and Council and General Band Meeting motions ever passed, including all applicable laws and regulations as a band councillor.
My paternal grandmother Agnes Jules visited us once or twice per day. She got our parents to take us up into the mountains regularly to gather berries, roots, bulbs, herbs and medicines. We have relatives in other nations, so we'd go to pick fruit or to hunt and fish. Often other grandmothers or extended family members would accompany us, pending availability of transportation. From all of this I am in western science word an ethnobotanist and I maintain our continued Secwépemc practice of food and medicinal gathering and processing, that I learned from my elders
My maternal grandfather Thomas Casimir was a former band councillor and he also came to see us daily. He spent time talking to us and encouraging us to do well and help with chores. while our father was out of town attending to his duties as the Chief of the band, he ensured we were well provided for until Dad returned.
Honouring the teachings of my grandparents and elders by sharing my knowledge and I was extremely fortunate to received traditional, cultural, grassroots teachings. Even though we had to attend the Kamloops Residential School as Day Scholars and as residence, our family, extended family and elders ensured we received the teachings of our ancestors.
My maternal grandmother Felicity "Sadie" Casimir was a renowned teacher of our traditional songs and dances, but she passed away while we were young, and our parents raised my Moms younger siblings. Afterwards many eminent elders to name a few as there were many i.e. Katy Petal, Mildred Gottfriedson, Issac & Adeline Willard, Angelina Seymour, Rosie Casimir and Nels "Uncle Mitch" Mitchell (just naming a few) taught me and my siblings our Secwepemc songs, dances and meaning behind them each of them, and significant places they were made, as well as the Stseptékwll ell Stsekxmém they were tied to.
I will continue to fight for the protection of our ancient burial sites, middens, cultural resources, cultural heritage preservation, cultural interpretation, indigenous education, Indigenous cultural and intellectual proprietary and copy right domestically and internationally. I have and will work with my nation and band on the repatriation to bring home our ancestors and reburial, funerary objects, sacred treasures.
I also worked for our band at Little Fawn Nursery School for 32 years and in all the other areas in education administering – K-12, Public and Private Schools, Sk'elep School, Post Secondary and Trades and Training before running for council. I've taken numerous certificate and diploma courses in the field of Early Childhood Education, Special Needs/Speech Pathology, Archeology and Secwépemc Language Proficiency at SFU. I once counted the number of children I was fortunate enough to be a part of their early learning and came up with the number of 1,112 children. To be honoured to have parents have me and my co-workers entrusted in the care, nurturing and educating their children's foundational early learning was an honour and a privilege for me. Many of the former students still call me Auntie Jeanette or as they used to call me "teacher". For me I still have all our hopes and dreams of a brighter future for them and our future generations, so that they don't need to go through the same struggles we have gone through or our parents, grandparents and ancestors. One of the reasons I negotiate so hard is for them and our community.
Councillor Katy Gottfriedson
Councillor
Tkwenem7íple7 Katy Gottfriedson
Primary Portfolio:  Lands Leasing and Taxation
Secondary Portfolio: Business Development
Bio Coming Soon