June 21 is National Indigenous Peoples Day. This is a day for all Canadians to recognize and celebrate the unique heritage, diverse cultures and outstanding contributions of Indigenous peoples. Let's not let a pandemic get in the way of celebrating! This year, join Tk'emlúps te Secwépemc for a virtual "Day of Sharing", June 21 from 9am – 5pm.
Celebrate the rich culture and history of Indigenous Peoples of Canada. There will be new content shared every 15-30 minutes from 9am – 5pm, so check back often!
Tk'emlúps te Secwépemc First Nation: A Looking Glass into Indigenous Justice and Important Next Step
Posted: 4:55pm
Category: Event
This is a replay of a Zoom meeting at 8:30am PDT, June 21st, National Indigenous Peoples Day. The Raoul Wallenberg Centre for Human Rights hosted a panel discussion with leading Canadian experts in Indigenous justice. Distinguished panelists included:
Chief Rosanne Casimir, Chief for Tk'emlúps te Secwépemc
Phil Fontaine, former National Chief of the Assembly of First Nations
Professor Kathleen Mahoney, Q.C., RWCHR Canadian Co-Chair, Professor of Law at the University of Calgary, Fellow of the Royal Society of Canada, Fulbright Fellow, and a participant in the creation of the Truth and Reconciliation Commission.
↓ Keep Scrolling ↓
---
Little Fawn Nursery Welcome Song
Posted: 4:40pm
Category: Songs
The children of Tk̓emlúps te Secwépemc Little Fawn Nursery sing a welcome song.
↓ Keep Scrolling ↓
---
Great Books by Indigenous Authors
Posted: 4:20pm
Category: Books
Discover your next great read by an Indigenous author, from heart-rending memoirs, to powerful histories, to award-winning fiction and more.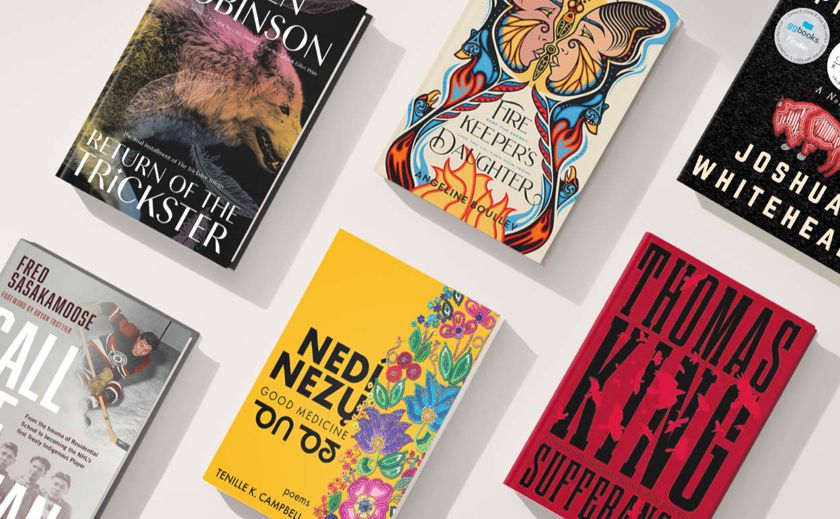 → Books to read on June 21st | chapters.indigo.ca
↓ Keep Scrolling ↓
---
Surrey's National Indigenous Peoples Day Virtual Celebration
Posted: 3:55pm
Category: Event
Surrey's National Indigenous Peoples Day Virtual Celebration (Main Event) will be broadcast on Fraser Region Aboriginal Friendship Centre Association – FRAFCA YouTube (@FRAFCA) and Facebook (@FRAFCA) channels.
Hosted by the Local Land Based Nations, Semiahma (Semiahmoo), q̓ʷɑ:n̓ƛ̓ən̓ (Kwantlen), and q̓ic̓əy̓ (Katzie) First Nations, Surrey's National Indigenous Peoples Day is an opportunity to acknowledge and show respect and admiration for Indigenous People past, present and future; to share cultural history; and to share spirit, experiences, stories, song, art and dance with each other and the community.
Surrey acknowledges it is situated on the traditional, ancestral, unceded territories of the Salish Peoples, including the Semiahma (Semiahmoo), q̓ʷɑ:n̓ƛ̓ən̓ (Kwantlen), and q̓ic̓əy̓ (Katzie) land-based Nations.
Starts at 5:55pm, PDT
↓ Keep Scrolling ↓
---
KTW Indigenous Peoples Day Special Edition
Posted: 3:05pm
Category: News
Today is the day! National Indigenous Peoples Day special edition was delivered in last Wednesday's edition of Kamloops This Week to almost 31,000 homes. 400 extra editions were delivered to Tk'emlups te Secwepemc office to be delivered door-to-door throughout the TteS Community.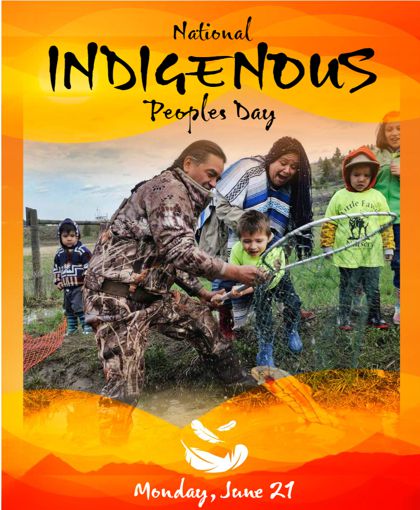 We thank everyone for your participation to help make this beautiful edition possible to honour this special day. It is truly heart-warming to see the outpouring of community support during this tragic time. 10% of the advertising proceeds were donated from KTW to the Tk̓emlúps te Secwépemc investigative and memorial fund.
↓ Keep Scrolling ↓
---
Margit Sky Project | Mourn
Posted: 2:31pm
Category: Video
Written 25 years ago by Rod Bandura and Terrance Armstrong….still relevant today. In honour of the 215 children found at the Kamloops Residential School.
↓ Keep Scrolling ↓
---
KIRS | The Children's Stories
Posted: 1:59pm
Category: Video
A documentary revealing the history of the Kamloops Indian Residential School through stories shared by the children who attended. Funded by Tk̓emlúps te Secwépemc for the Museum and Heritage Park.
Narration
Dr. Mona Jules
Interviewees:
Mary Thomas Gottfriedson
Evelyn Thomas Gottfriedson
Garlene Dodson Jules
Richard Jules
Vivian Jules
Johnny Jackson
Ted Gottfriedson
Editor, Writer, Director, Producer
Len L Watts
Camera Operator and Sound
Gabriel Archie
Songs
Nels Mitchell
Drone Footage
Michael Anthony
↓ Keep Scrolling ↓
---
Honouring the 215 | Spiritual Assembly of the Baha'is of Aurora
Posted: 1:30pm
Category: Video, Children
The Children's Education Committee of the Baha'i Community of Aurora created this video to commemorate and honour the young souls of the 215 Indigenous children whose bodies were discovered at Kamloops residential school in British Columbia. In the video, the children read a poem by Abigail Echo-Hawk.
↓ Keep Scrolling ↓
---
A Message for TteS Community
Posted: 1:30pm
Category: Message, Facebook
Trevor T. shared this message with us on National Indigenous Peoples Day and asked that we pass in on to the Tk̓emlúps te Secwépemc community:
Hello,
Last year on June 21st my wife and I were in Kamloops and were in the park for some ice cream. While we were there there was a group of first nations having a drum circle and singing songs.
We were there killing a few hours before I was to go to detox and then to rehab for a month for drug and alcohol abuse. I was scared of going, scared to be away from my kids, I didn't want to go. The music that day helped to calm me down and give me some peace of mind.
I don't know if there was anyone from your nation there but I wanted to say thanks to someone as I think about that day in the park often. I've been clean one year today and part of me figures that starting with a peaceful mindset before going away has helped.
So thanks, and in light of the recent discoveries at the residential school there, if there's anything you figure a white guy from Trail could do to help bring reconciliation please ask.
Thanks,
Trevor T.
Trail, BC
↓ Keep Scrolling ↓
---
CBC Morning North | Celebrating Indigenous Peoples Day Through Music
Posted: 12:58pm
Category: Music
CBC Morning North marked Indigenous People's Day by playing music from indigenous musicians from northeastern Ontario. They invited Bryden Gwiss Kiwenzie, Evan Redsky, Lawrence Martin, Crystal Shawanda, and Esther Pennell to introduce some of their music and talk about some of the music that influenced them. This is a montage of all five musicians.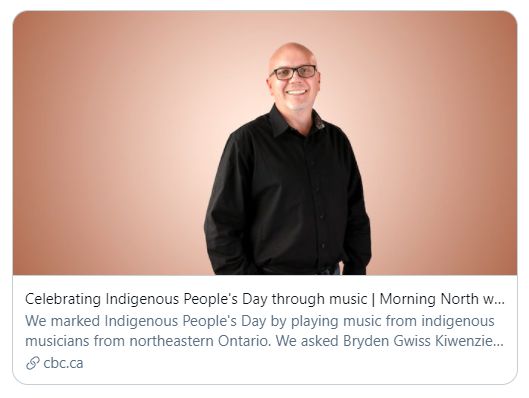 ↓ Keep Scrolling ↓
---
Indigenous Peoples Day Event | Hamilton
Posted: 12:11pm
Category: Events
A virtual event hosted by the Urban Indigenous Strategy in partnership with the Aboriginal Advisory Committee to celebrate National Indigenous Peoples Day.
↓ Keep Scrolling ↓
---
TteS Cowboy Family Saves Wild Foal
Posted: 11:01am
Category: News, Our People
Our people, like range riders Jordan and Candice Camille are vitally important to the Tk̓emlúps te Secwépemc band.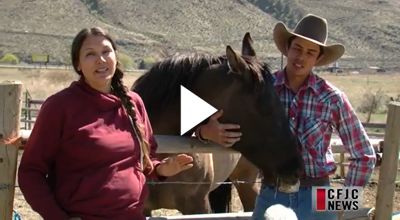 WATCH CFJC-TV VIDEO
↓ Keep Scrolling ↓
---
Celebrating Indigenous Peoples in Canada: Learning and activity guide
Posted: 10:30am
Category: Publication, Kids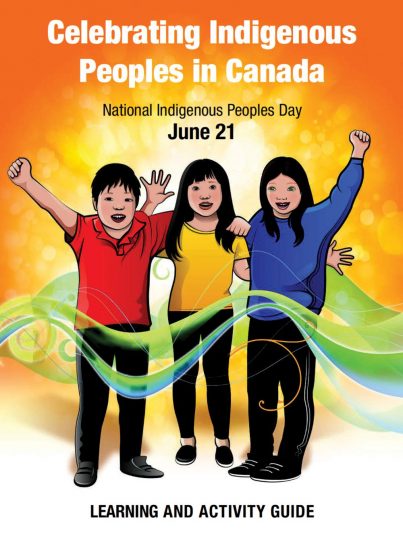 The Celebrating Indigenous Peoples in Canada activity guide has trivia, games and crafts for kids, including a:
cruncher
mystery message
trivia quiz
spot the differences
maze
bracelet braiding activity
miming game
word search
connect the dots
colouring page
fry bread recipe
↓ Keep Scrolling ↓
---
Kamloops man uses TikTok to share Indigenous culture
Posted: 9:56am
Category: News
A Kamloops man who started a TikTok account to share his Indigenous culture has captured a global audience. Quanah George, a Tk̓emlúps te Secwépemc member, began sharing his passion for his heritage through TikTok after being encouraged by his 15-year-old son. George currently has more than 100,000 followers on his account, @quanahgeorge0. Through the social media platform, he informs his followers about his Indigenous art and culture.
↓ Keep Scrolling ↓
---
TRADITIONAL STORIES
Posted: 9:30am
Category: Stories
Listen to traditional stories and creation stories told by six Indigenous storytellers from communities across Canada. Each story is available in the respective Indigenous language and in English and French.
↓ Keep Scrolling ↓
---
DRUMS ACROSS KANATA
Posted: 9:02am
Category: Event, Music, Stories
For National Indigenous Peoples Day 2021, the VSB Indigenous Education Department presents Drums Across Kanata. This video is dedicated to Tk̓emlúps te Secwépemc and the Kamloops Indian Residential School Children who never made it home. You'll be viewing drummers, singers, Elders, knowledge keepers from all across Kanata! The video is 5 hours and 25 minutes long. There is a 40-minute lunch break weaved in after 4 hours of viewing. During the lunch break, you can leave on to watch the 40-minute visuals or you can fast forward.
Drum Across Kanata collective sharing of voices:
Welcomes by Musqueam, Squamish, and Tsleil-Waututh Nations.
Two minutes and 15 seconds of silence dedicated to the Kamloops Indian Residential School Children who never made it home. Our prayers for the families and loved ones of the Secwépemc and Nlaka'pamux peoples.
Vision, Dream, Reality: An introduction by Davita Marsden, Chas Desjarlais and Jody Langlois.
Prayer by Shane Point
All participants to follow
Lunch Break 40 minutes
Remaining participants
Closing words and prayers.
---