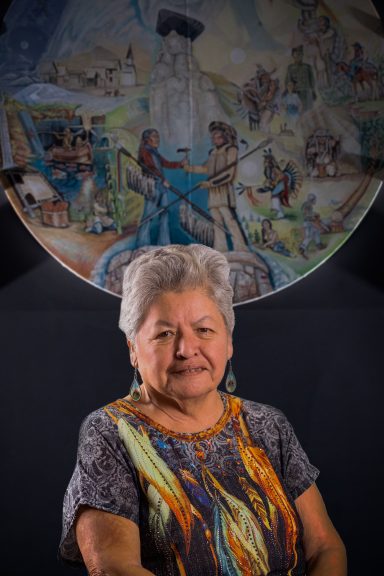 Councillor Marie Baptiste
Tkwenem7íple7 Marie Baptiste
Primary Portfolio:  Housing
Secondary Portfolio: Education
Since 1975 I have only missed TWO Tkemlups te Secwepemc General Band Meetings and I have listened and I have heard the concerns of our members.
I am an experienced administrator, fundraiser, public speaker and project coordinator in Aboriginal Business and Employment programs locally and provincially.
I am knowledgeable of financial, legal, economic, social, health, education and traditional policies, issues and concerns.
Previous member of the TteS Governance Committee and Housing Committee.
EDUCATION BACKGROUND
Graduated from Kamloops Senior Secondary School, June 1969.
Bookkeeping Certification – Cariboo College – March, 1980.
Computer Program Certificate – Cariboo College – 1986.
Private Education Institute instruction relation to Specialized training on computer programs – 1986 – 1987.
Journalism Certificate – Kam-Ed Education Institute
Advanced Management Skills for Supervisors – Thompson Rivers University – January 2011
Attendance at various workshops on (no certification given):

Economic Development
Responsibilities of Board of Directors.
Business Administration
Community Economic Development
HONORS OR CERTIFICATES RECEIVED FOR WORK ACCOMPLISHMENTS
Received "Certificate of Appreciation in the form of an engraved plaque" from the five Tribal Councils (SNTC, KIAC, LTC, OTC and NNTC) in the Central Interior Tribal Councils upon its dissolvement.
Received an "engraved plaque" for work done for All Nations Trust Company (ANTCo) on November 20, 1987.
Received "The Commemorative Medal for the 125th Anniversary of the Confederation of Canada" Certificate and Medal in recognition of significant contribution to compatriots, community and to Canada – 1867 – 1992.
PREVIOUS BOARD OF DIRECTOR – POSITIONS
Board of Director – Canadian Community Economic Development Network 2008-09
Board of Director – All Nations Trust Company 1986 to 2004
Board of Director – Community Futures Development Corporation of the Central Interior First Nations (CFDC-CIFN) – 1989 to 2004
District Advisory Board Member (DAB) – CEIC – October 10, 1986 – 1990
Board of Director – Kamloops Native Housing Society – 1987 – 1988
Member – Western Indian Agriculture Producers Association – 1986 – 1988
Councillor Thomas Blank
Tkwenem7íple7 Thomas Blank
Primary Portfolio:  Natural Resources
Secondary Portfolio: Title & Rights, Legal and Community Services
Primary Portfolio: Natural Resources
Secondary Portfolio: Community Services
Thomas is in his first term as a TteS Councillor (2018-2021).
Education: 
Various certificates earned with Ministry of Forests
Certified Incident Commander level II/Emergency Operations Director
Prescribed Burn Boss Level II
Certified Wildland Fire Cause Investigator level II
Courses in Emergency Management
History: 25 plus years involved in Wildland Fire and Emergency Management. Various certification and training and a combination of education and experience in Management.
Vision: We must create better communication services for our membership through community engagement. We must create a safe community for our membership. We must protect Secwepemculecw and our title and rights. We are responsive leadership and practice good governance.
Councillor Justin Gottfriedson
Tkwenem7íple7 Justin Gottfriedson
Primary Portfolio: Planning & Engineering
Secondary Portfolio: Housing
Justin is in his first term as a TteS councillor.
A grassroots member of the Tkemlups te Secwepemc. Husband to Vanessa and proud father of 4 (Calen, Logan, Danika and Oliver) he has worked for TteS in various capacities over the past 15 years. For seven years, he has served the community in the water and wastewater utility department. He believes in leading by example, which is demonstrated through his strong morals, work ethic and integrity. He is always willing to learn and strives to represent TteS with the highest of standards.