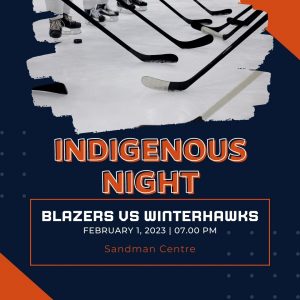 The Kamloops Blazers will host their annual Indigenous Night on Wednesday, February 1st against the Portland Winterhawks. During February 2023 The Western Hockey League will be participating in the Orange Jersey Project – an initiative created by the Orange Shirt Society aimed at using the power of sport to serve as a vehicle toward educating today's young athletes about the history of the Indian Residential school system and strengthening the path toward truth and reconciliation with Indigenous Peoples.
Tickets
Regrettably, all tickets are now gone. It is possible that some band members will not be able to attend the game, so we are taking names for a waiting list.  Unused tickets will be redistributed to people on the waiting list on a first-come, first serve basis.  To have your name added to the waiting list, please send an email to events@ttes.ca
Tim Hortons TimBit Player of the Night
The Tim Hortons TimBit Player of the Night is a local hockey player from the age of 6-9 who is chosen to join the Blazers on the ice for the game opening! The kid who is chosen will be the honorary Blazer for the night, skating out with the team at the start of the game and standing on the blue line with the big kids for the game opening!
Little fans can let us know that they'd like to be chosen as the TimBit Player of the Night for Indigenous Night on February 1, 2023 by filling out the application here. Please note the application is due on January 22, 2023 by 4:00 pm, the successful applicant will be notified on January 24, 2023.
Fanboni
Enter to win a ride on the Blazers Zimmer Auto Group Fanboni. Please send an email to events@ttes.ca with your name, phone number, and the number of people in your party to be entered.